Location: Rivervale, NJ
Project: Built custom staircase to a remodeled basement. Mixed a custom stained and applied on solid oak risers and treads to match existing pre-finished hardwood floors. Applied 4 coats of poly for added protection and both risers and treads were secured with 16 gauge finished nails and no-squeek construction adhesive.
Simply click on the photo to enlarge and see details and click photo again to return to this page.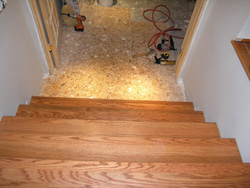 © 2013 Agape Remodeling — All Rights Reserved |

| email
home | about us | our services | photo gallery | contact us | sitemap
Follow us on: Twitter, Facebook, Linkin, Yelp, Insiderpages, Angies List, Manta
Our website is powered by100% wind energy