Location: River Vale, NJ
Project: This project was to repair an existing deck, add new railing along one side of the deck to match existing deck, add new structural corner braces to the deck and lag bolt to the ledger board. Deck was then powerwashed and stained with a new weathered gray stain for an updated new look.
Simply click on the photo to enlarge and see details and click photo again to return to this page.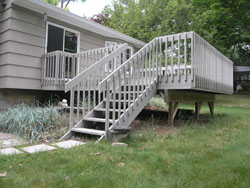 © 2013 Agape Remodeling — All Rights Reserved |

| email
home | about us | our services | photo gallery | contact us | sitemap
Follow us on: Twitter, Facebook, Linkin, Yelp, Insiderpages, Angies List, Manta
Our website is powered by100% wind energy