Location: Rivervale, NJ
Project: Built Custom Mud Room Bench and Storage. Custom Bench and Storage was built to clients specification from a magazine photo. All materials were primed and painted and new molding was scribed to tile floors. Wainscoting and hooks were installed along back of bench.
Simply click on the photo to enlarge and see details and click photo again to return to this page.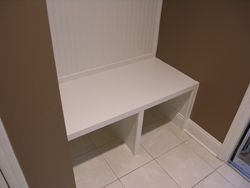 © 2013 Agape Remodeling — All Rights Reserved |

| email
home | about us | our services | photo gallery | contact us | sitemap
Follow us on: Twitter, Facebook, Linkin, Yelp, Insiderpages, Angies List, Manta
Our website is powered by100% wind energy