Location: Red Hook , NY
Project: 1600 sq ft Commercial Build-Out for an office in the old historic chocolate factory building in Dutchess County. This was a two part project, 1st part included framing out interior conference room, hanging drywall on a vaulted ceiling, taping sheetrock & plastering the walls, priming and painting. 2nd part included installation of Tranquility 4mm Laguna Hills Click Resilient Vinyl and Eco Silent Sound HD Underlayment, installation of drop ceiling grid and custom trim base molding along the entire 1600 sq ft.
Simply click on the photo to enlarge and see details and click photo again to return to this page.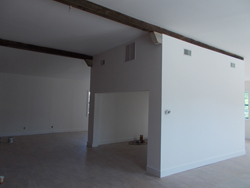 © 2013 Agape Remodeling — All Rights Reserved |

| email
home | about us | our services | photo gallery | contact us | sitemap
Follow us on: Twitter, Facebook, Linkin, Yelp, Insiderpages, Angies List, Manta
Our website is powered by100% wind energy