Location: Hurley, NY
Project: Formed and poured a custom three tier front walkway from driveway to new front porch. The walkway was made to be 4ft wide and is 42ft long. Steps on tiers were made to be 6in to match step height on front porch. The concrete was colored a sage tan to match the new paint scheme on the home.
Simply click on the photo to enlarge and see details and click photo again to return to this page.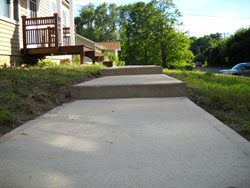 © 2013 Agape Remodeling — All Rights Reserved |

| email
home | about us | our services | photo gallery | contact us | sitemap
Follow us on: Twitter, Facebook, Linkin, Yelp, Insiderpages, Angies List, Manta
Our website is powered by100% wind energy