Location: Hurley, NY
Project: Built a completely custom front porch with new concrete support footings, new pressure treated columns wrapped with pvc boards to mimic simple craftsman square columns, new hand railing that was based on mission style handrailing and stained the entire deck a rich color to compliment the simplicity of this small home. Existing porch was sagging 6 inches and had no support at all. Once porch was completed, house was painted and a new three tier walkway was poured.
Simply click on the photo to enlarge and see details and click photo again to return to this page.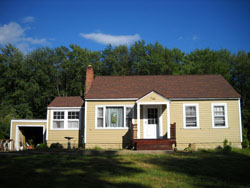 © 2013 Agape Remodeling — All Rights Reserved |

| email
home | about us | our services | photo gallery | contact us | sitemap
Follow us on: Twitter, Facebook, Linkin, Yelp, Insiderpages, Angies List, Manta
Our website is powered by100% wind energy