Location: Hurley, NY
Project: Homeowner had attempted previously with another contractor to remodel the attic space into liveable space unsuccessfully. After sanding down 1st coat of joint compound put on poorly with no tape, we installed the remaining drywall and put three coats of joint compound feathering each new pass over the last. The result was a close as possible seamless drywall installation. We primed and painted all the walls and installed new vinyl replacement windows. Custom mission style doors and trim work. The existing 100 year old attic floors were sanded and three coats of poly were applied for a Georgeous looking floor not able to be replicated with a new floor. Check out the video.
Simply click on the photo to enlarge and see details and click photo again to return to this page.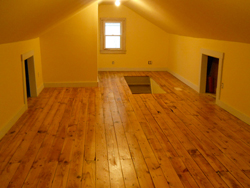 © 2013 Agape Remodeling — All Rights Reserved |

| email
home | about us | our services | photo gallery | contact us | sitemap
Follow us on: Twitter, Facebook, Linkin, Yelp, Insiderpages, Angies List, Manta
Our website is powered by100% wind energy