Location: Harrington Park , NJ
Project: Built a set of custom bookcases and bookshelves from floor to ceiling on either side of a custom fireplace mantel that houses a large flat screen plasma tv. Along other side of room, built floor to ceiling matching bookcase. Finished all bookcases with large custom crown molding wrapping bookcases and custom plinth blocks and fluted casing along fireplace pillars.
Simply click on the photo to enlarge and see details and click photo again to return to this page.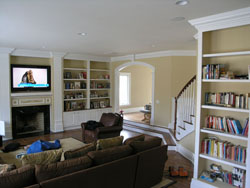 © 2013 Agape Remodeling — All Rights Reserved |

| email
home | about us | our services | photo gallery | contact us | sitemap
Follow us on: Twitter, Facebook, Linkin, Yelp, Insiderpages, Angies List, Manta
Our website is powered by100% wind energy