Location: Closter, NJ
Project: Installation of two interior six foot french doors. In an existing opening the door was installed and trim molding installed. On opposite site wall, opening was created, new header was installed, drywall was patched and new trim molding was installed. The french doors were pre-primed from the factory and homeowner was going to paint the doors and trim themselves.
Simply click on the photo to enlarge and see details and click photo again to return to this page.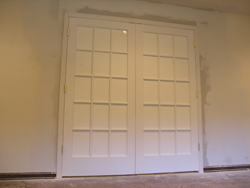 © 2013 Agape Remodeling — All Rights Reserved |

| email
home | about us | our services | photo gallery | contact us | sitemap
Follow us on: Twitter, Facebook, Linkin, Yelp, Insiderpages, Angies List, Manta
Our website is powered by100% wind energy