Location: Airmont, NY
Project: Sheetrock Taping and Finishing of a Kitchen Remodel town of Airmont, NY located in Rockland County. Contacted by the homeowners to finish off their kitchen within 1 day. All joints were taped with mesh tape and all inside corners were taped. We used easy sand 90 minute joint compound to put three coats on all surfaces and final sanding or super smooth surface ready for prime and paint. View photos below or take a look at the time elapsed video.
Simply click on the photo to enlarge and see details and click photo again to return to this page.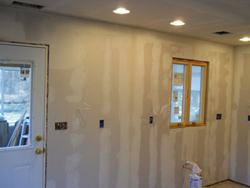 © 2013 Agape Remodeling — All Rights Reserved |

| email
home | about us | our services | photo gallery | contact us | sitemap
Follow us on: Twitter, Facebook, Linkin, Yelp, Insiderpages, Angies List, Manta
Our website is powered by100% wind energy